De-Listed - General Cargo
---
According to the ship owner this Coaster, General Cargo vessel actively involved in the grain, minerals and fertilizers trade within European ports. She had a major overhaul of Main Engine and Aux. Engines in 1999 and she is real good conditions, very well maintained. Fully equipped with all navigational aids as GMDSS, etc. This ship was dry-docked in August 2000. The ship has Mc Gregor type hatch covers measuring 45.7M x 8M. Crew: Actually 7 (seven) crew members according to Cyprus regulations. Accommodation: 10 (ten) individual cabins with individual bathroom. Master / Ch. Officer / Ch. Engineer with Office in the cabins. Separated Mess rooms for Officers and Crew. 2 Life rafts for 16 persons each. 1 Rescue boat for 4 persons.
VESSEL IDENTIFIER: MSS10
Price: U.S. $ 860,000.00 PRICE REDUCED TO 695,000.00 FIRM
DIMENSIONS

Feet
Meters
Length
259
79
Breadth
41
12.5
Depth
21.3
6.5
Draft
18
5.5
Free Speed
10.5/11 Knots appx.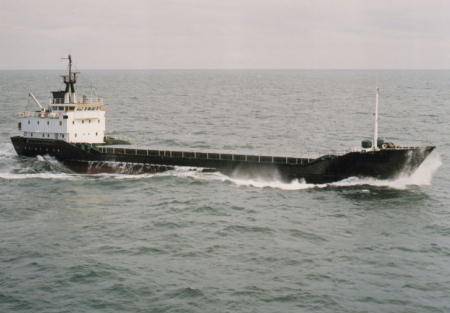 PARTICULARS
Flag
Cyprus
Year Built
1981
Where Built
Spain
Class
Germanischer Lloyds
Next DD:SS
Gross Registered Tons
1,769
Net R. Tons
1,028
DWT
2,792
Grain Capacity
133,500 Cubic Feet
3778 m3 / Bale
Bale Capacity
119,000 Cubic Feet
3370 m3 Bale
DWCC
2,700 MT
MORE INFORMATION BELOW
Power

Main Engine

Man B&W 12V23LU
1740 HP @ 750 RPM
Auxiliary Engine
3 x Pegaso 9105/7 - 142 BHP @ 1500 RPM
Generators
3 x Indar 280S - 105kW

Steering Gear
Lamiako BT-18
Fuel Consumption
4.2 MT at Sea
.5 MT in port
Fuel Capacity
136 MT
Electrical Power
380V/50 Hz.
Navigation/Electronics

Radar

2 x Furuno
Autopilot
Sperry
Compass
Sperry
Echo Sounder
Depmar
Other Electronics
GMDSS A1, A2, A3