Sold - RoRo Ship
---
This vessel is in the Mediterranean available for inspection. She traveled there in mid 2002 where she was completely refurbished and classed under the new stringent Greek Flag and Hellenic Ship Registry. She has had around 80 tons of steel put in her, both main engines were overhauled, both generators were overhauled and one replaced. She also has a new electrical panel. The owner promises me new photos soon, but according to him she is like a new vessel and a steel at the price. This vessel is an excellent purchase candidate. In April 2004 she started a 6+6 month charter but the charter agreement has a sales clause in it is she is purchased.
She has driver accommodations for 12 drivers.
VESSEL IDENTIFIER: JG11
Price: U.S. $ 1,800,000.00
DIMENSIONS

Feet
Meters
Length
340
103.6
Breadth
61
18.6
Drafts
17
5.2
Free Speed
Range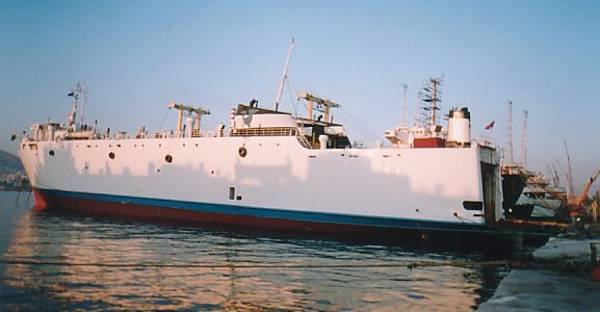 ABOVE IS A NEW PHOTO SINCE REFURBISHING THE VESSEL
THE PHOTOS BELOW AND ON THE OTHER PAGES WERE TAKEN BEFORE THE VESSEL WAS TOTALLY REFURBISHED IN GREECE.
PARTICULARS
Flag
Greece
Year Built/rebuilt
1967/2002
Location
Greece
Class
Hellenic
Next DD/SS
Dec/2005/July/2007
LDT
2,470
Gross Registered Tons
2,659
Cargo
55- 40' Trailers
134 TEU's
Cargo Capacity
3,118 Tons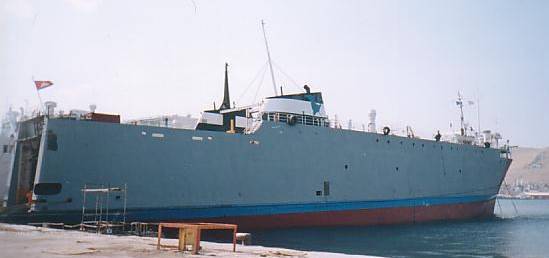 Power

Main Engine

2 - Atlas MAK 8 Cylinder 6,000 HP
Generator
3 - Deutz 300 kW
1 Dismantled
Propellers
2 Fixed
Electrical Power
Fuel
Approx. Fuel Consumption
14 Knots-15 TS MGO
13 Knots-13 TS MGO
12 KN-11.5 TS MGO
11 Knots-9.5 TS MGO
10 Knots-7.5 TS MGO
Fuel Capacity
130871 Gallons or 425 MTS at 100%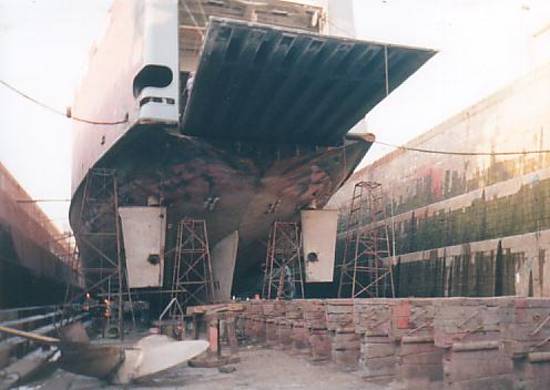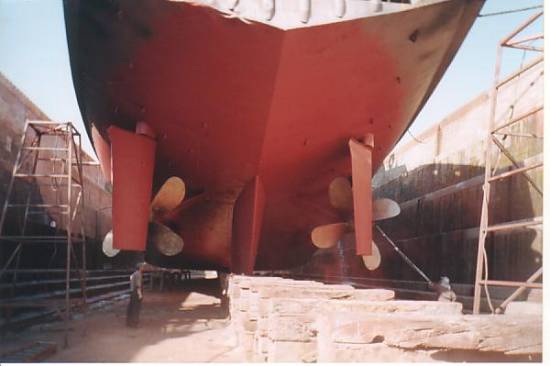 CARGO
Stern Ramp to Main Deck
6 Meters Wide x 6 Meters High
8 Meters long
Max Load 45 Tons
Lifts
18 M x 2.95 M - 28 Tons from Main Deck to Weather Deck
18 M x 3 M - 40 Tons From Main Deck to Tank Top Deck
Deck Configuration
Weather Deck - 868 Sq. Meters with 5.6 Meters Free Height
Main Deck - 1,348 Sq. Meters with 5.6 Meters Free Height
Tank Top - 516 Square Meters with 4.05 Meters Free Height
Total 2,732 Sq. Meters
Lane Meters
Abt 800 Lane Meters
Driver Accommodations
12 Drivers
Navigation/Electronics

Radar

Yes

GMDSS

Yes
Gyro
SART
GPS
RDF
Radios
Other Electronics
Full Package