SOLD - General Cargo/Container Vessel
---
This vessel was built in 1976. She has been maintained under Lloyds Class by her owners who operate a fleet of vessels. She has her full navigation equipment including GMDSS. She has Ascargo Folding Panel hatch covers. She has two holds and two hatches, holds have sloops. We have personally inspected this vessel and find her to be very presentable.
VESSEL IDENTIFIER: AN12
Price: U.S. $ 540,000.00 PRICE REDUCED $435,000.00 Now try $399,000, perhaps a little lower.
DIMENSIONS

Length overall
274
83.44
Breadth
46.3
14.13
Max. Draft
16.6
5.074
Speed
11 Knots
Consumption
5 Tons/Day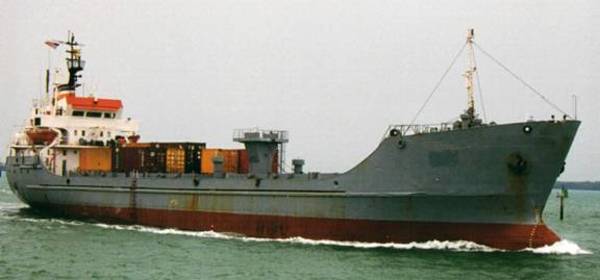 PARTICULARS
Flag
Panama
Year Built
1975, Spain
Current Location
East Coast Florida
Next Dry-docked
Next Special Survey
2/27/05
11/13/05
Class
Lloyds
+100A!+LMC, Ice Class 3 Strengthened for heavy Cargoes
Certificates
ISM
GRT/NRT
1868/1085
DWT
3000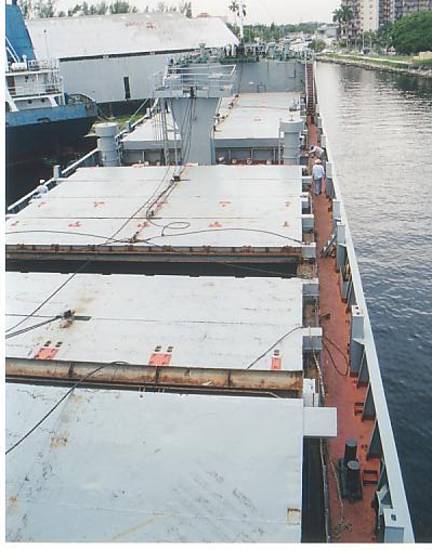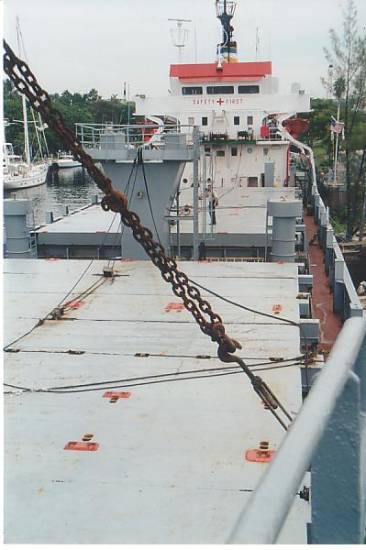 Equipment
Main Engine
Barreras/khdeutz 6 Cylinder M358 1545 KW@310RPM
Generator
3 - Caterpillar 3300 72 KW
1 - MWM Ditter 325 1500 RPM
Bow Thruster
Fuel Capacity
269 M3
Fresh Water
41 M3
Ballast Water
680 M3
CONTAINER CAPACITIES:
NOMINAL INTAKE: 94 CONTAINERS (ACC. I.M.O)
CONTAINER CAPACITY

HOLD 20' CONTAINERS

40' CONTAINERS

1st. TIER 23

2nd. TIER 23

08 + 7 x 20'

08 + 7 x 20'

TOTAL HOLD 46

16 + 14 x 20'

DECK 20' CONTAINERS

40' CONTAINERS

1st. TIER 24

2nd. TIER 24

8 + 8 x 20'

8 + 8 x 20'

TOTAL DECK 48

16 + 16 X 20'

TOTAL SHIP CAPACITY 94 TEU OR 32 x 40' + 30 x 20'